Edge AI for System Designers
High Accuracy at Super Low-Power
AONDevices contributes to the advancement of state-of-the-art technologies
AONDevices Announces Full Stack Edge AI Solution, Giving OEMs Fast-Time-To-Market Capabilities
Always-On, high-accuracy and super low-power edge AI processors, algorithms and solutions - Voice | Sound | Sensor
AONDevices (AON) is a semiconductor company based in Irvine, CA, that specializes in developing application-specific, high-accuracy super low-power edge AI processors, algorithms and solutions, making it perfect for battery-powered "always on" devices.
AONDevices provides a complete, super low-power edge AI solution, including ML chips that come with integrated ML-optimized algorithms at no extra cost to customers.
Their tool suite can be licensed to support data collection to inference, with advanced data augmentation and adaptive training tools that can be used online or offline. Additionally, AONDevices offers fast time-to-market training services, with support for small datasets.
Privacy through local processing
On-device Deep Learning technology enables AI-based Voice, Audio and Multi-Sensor fusion inference at the "Edge".
Super
Low-Power
Joint design and optimization of deep learning algorithms, architecture and circuits resulting in a super-low power solution.
High accuracy in background noise
AON's algorithms are based on the latest innovations in the quickly-evolving deep learning technology field, resulting in high performance and high accuracy in noisy conditions.
Full Stack Solution
High-performance, super-low power ML chips, integrated ML-optimized algorithms, a tool suite supporting data collection to inference, with advanced data augmentation and adaptive training tools and fast time-to-market training services, with support for small datasets.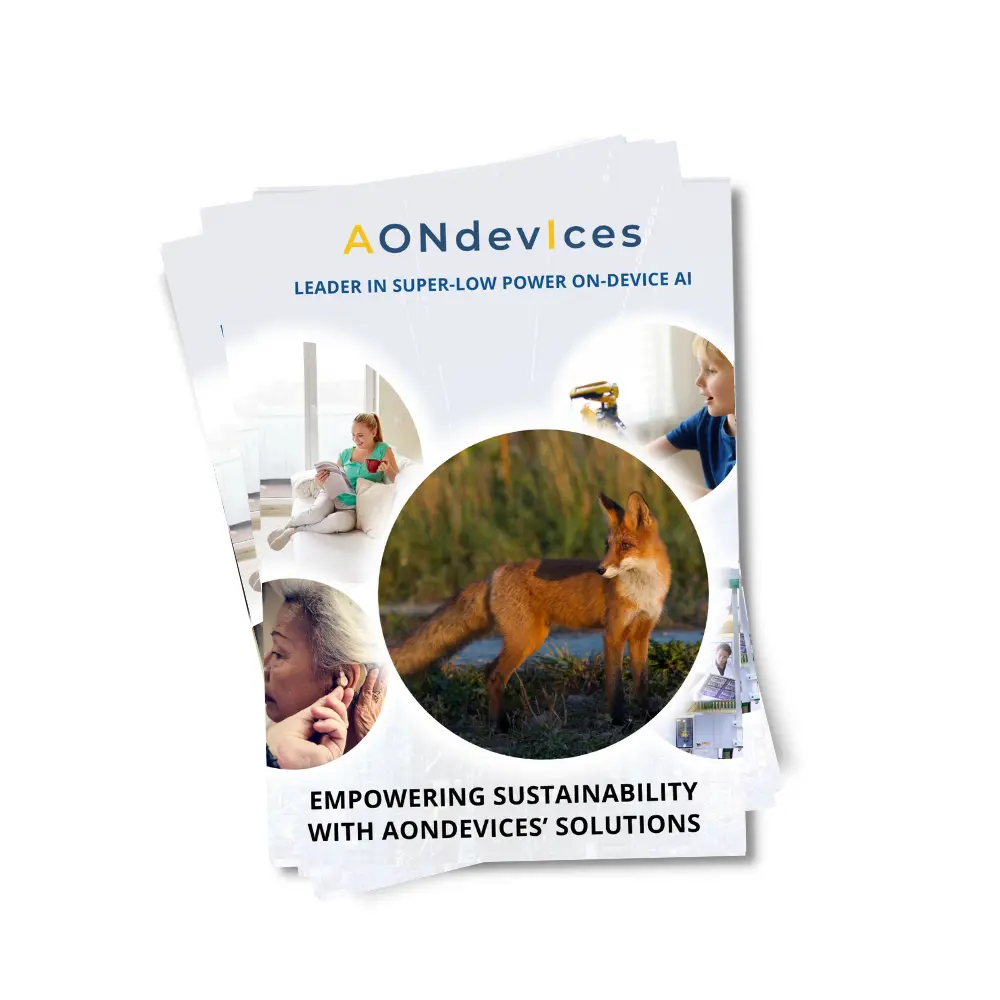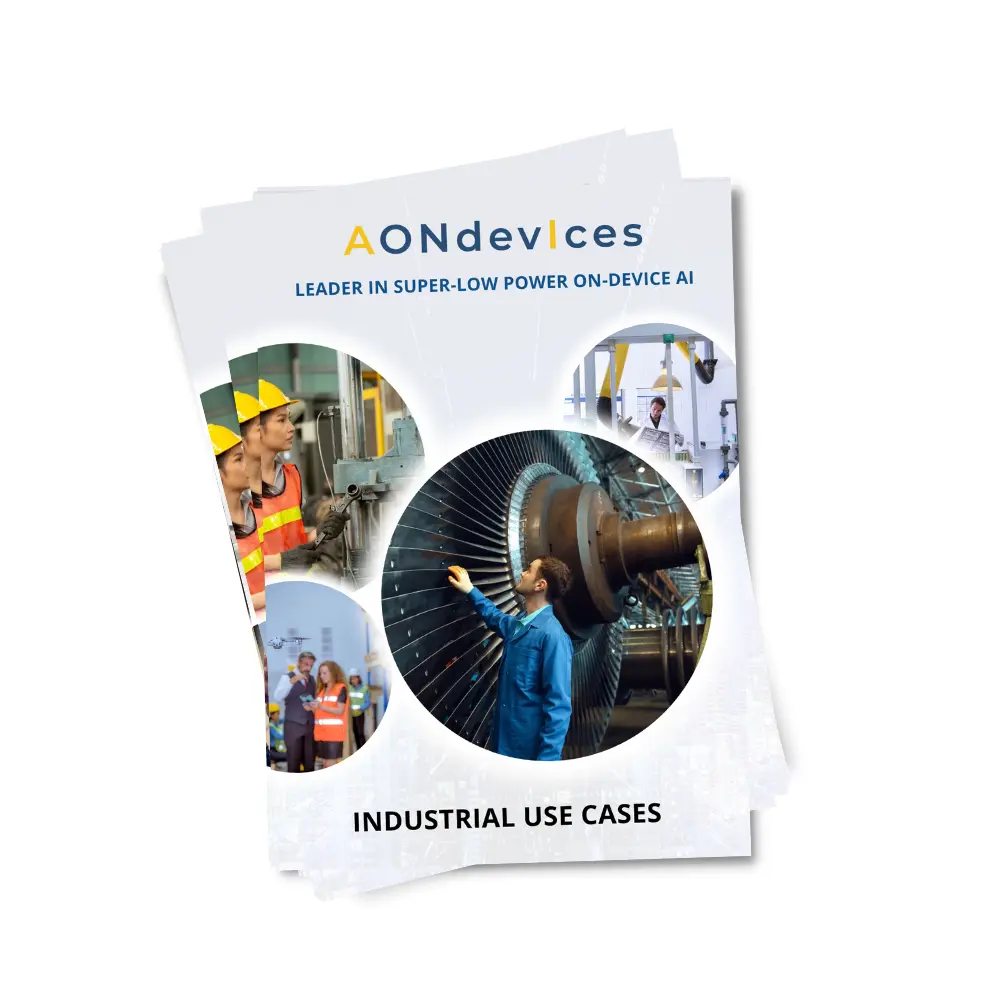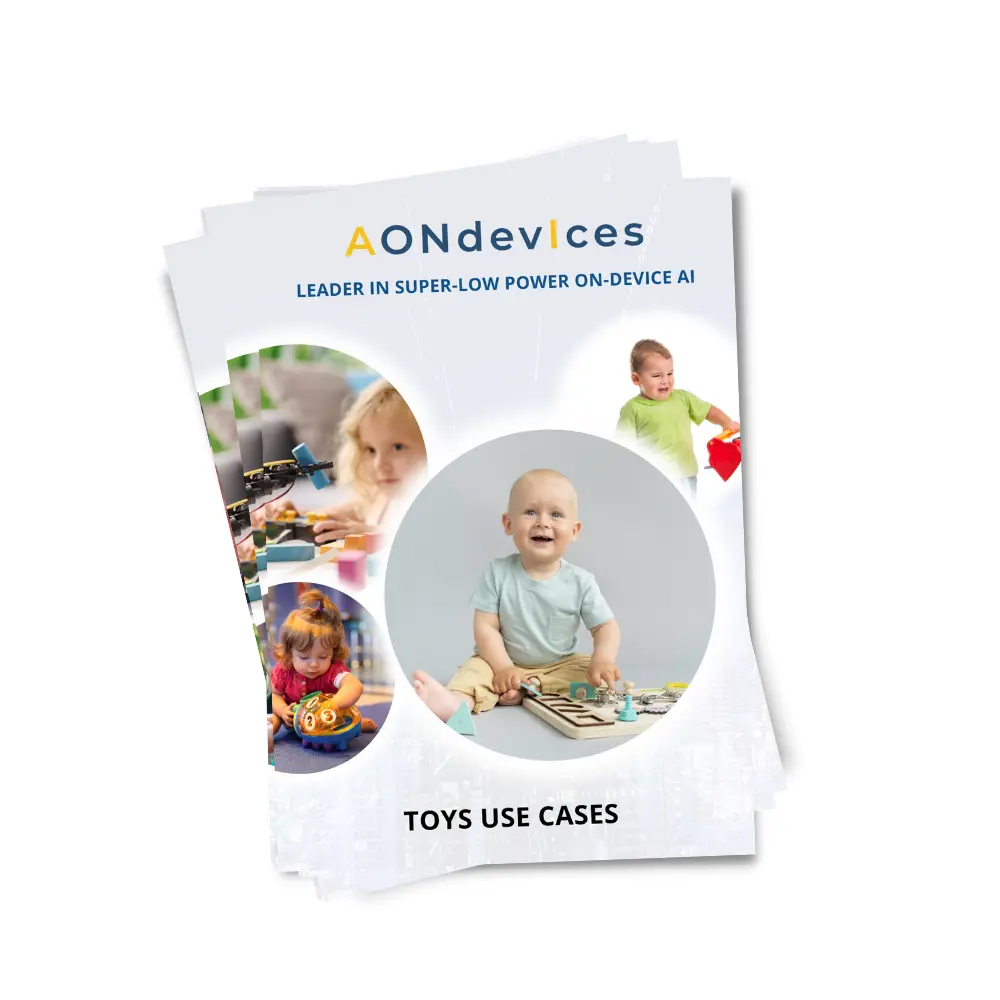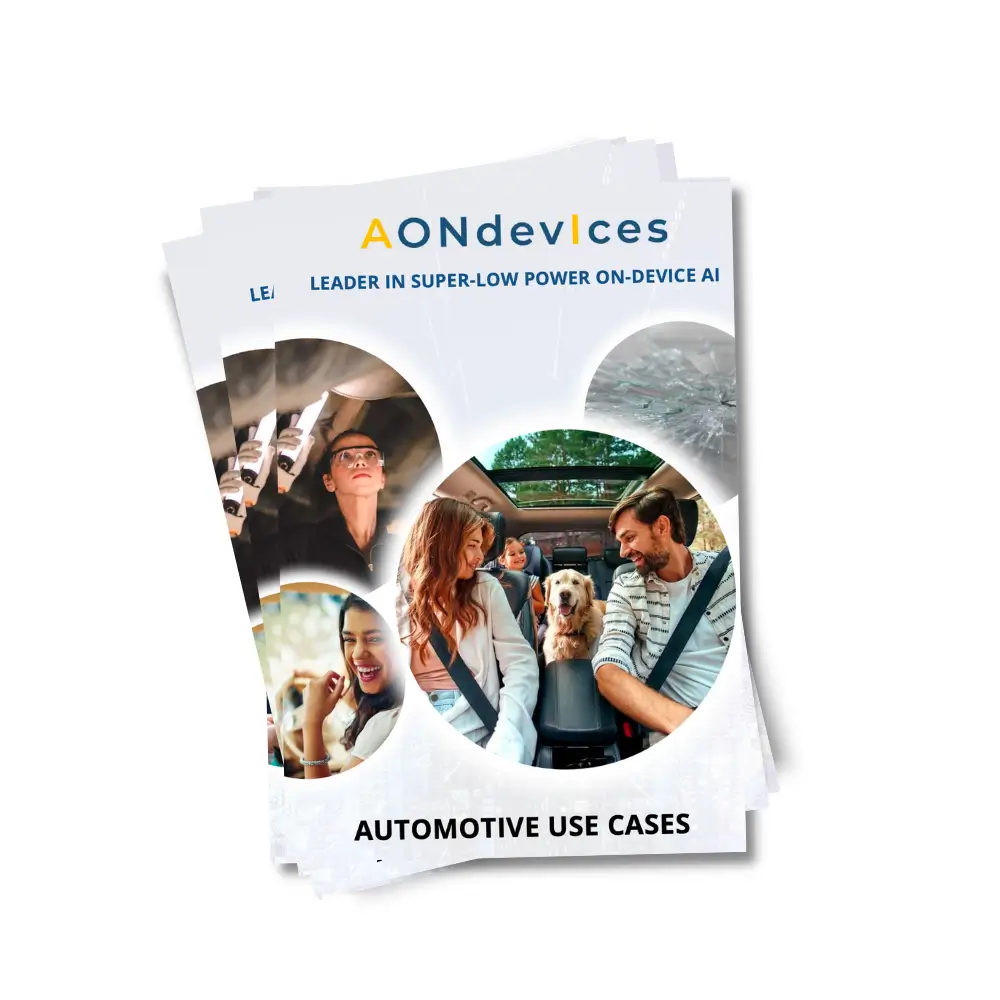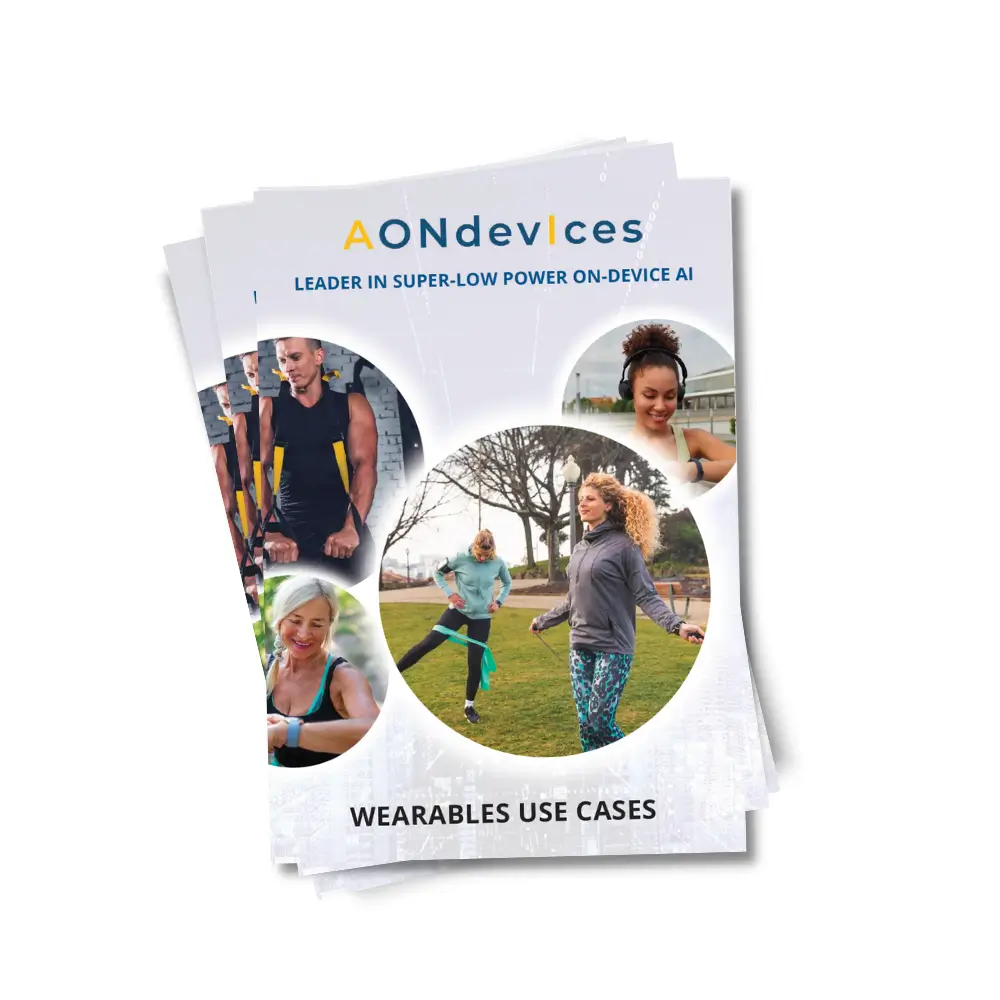 Our cutting-edge technology offers a hassle-free way to control all your devices, including wearables, hearables, and smart home devices, using only your voice with super low power consumption.
Our advanced acoustic event detection technology ensures you don't miss any important sounds, whether it's a siren, alarm, or breaking glass. You can customize your device's settings to recognize and classify specific sounds, giving you greater control over your environment.
Take your personalized experience to the next level with our speaker identification feature, which lets you tailor your device to your preferences.
For a complete overview of your fitness, health and your home, our sensor fusion technology collects data from multiple sensors, providing unparalleled accuracy.
Experience the revolution of the way you live with our comprehensive white papers, featuring all the information you need to enhance your daily life with our innovative technology.
"Computer vision, sound recognition and motion sensing/detection at the edge will allow the metaverse to securely collect more data about the user and the user's environment, enabling systems to use that data to offer personalized experiences and features. Doing so can significantly enhance the user's experience for applications such as gaming, education, remote work and more"
"Our technology evaluation of AONDevices' super low-power voice and sound recognition IP was very positive. By adding artificial intelligence to our advanced wireless communication ICs, it offers the potential for voice activity and hotword detection at the edge in headsets, remote controls and other applications where performance, high noise-resilience and battery lifetime are crucial"
"A small yet incredibly effective algorithm that works with just a single microphone will positively impact many lives. I have been incredibly impressed by AONDevices' achievements and am excited for the upcoming technology revolution in which AI delivers better user experiences. AONDenoise is poised to significantly enhance the next generation of wearable and mobile devices. It is a truly remarkable accomplishment in AI speech enhancement."
AONDevices solution consists of:
ML Chips
AON offers its edge-AI processor in two forms: Selling High Performance ultra-low power ML Chips and selectively licensing processor IP.
System/ML Algorithms
AON offers its edge-AI processor in two forms: Selling High Performance ultra-low power ML Chips and selectively licensing processor IP.
ML Tool Suite
Licensing a tool suite From data collection to inference, including advanced data augmentation and adaptive training tools. Tools are supported in online and offline support.
ML Training Services
AONDevices is offering Fast time-to-market training services with the support of a small dataset.
The AON1100™ device is a cutting-edge edge AI device that provides exceptional performance and super-low power consumption. The device comes integrated with application-specific inference algorithms, making it a turnkey solution for always-on sensing and voice activation. The AON1100™ chip is powered by AONDevices' AONVoice™ and AONSens™ technologies, with dual neural network cores that can be independently configured to suit specific applications. It delivers the lowest power consumption available in the market, without compromising on performance.
What's more, the AON1100™ device eases the burden of system design by integrating application-specific algorithms. This eliminates the need for additional algorithm or firmware development, making it easy for developers to integrate into their products. In addition to its powerful hardware features, the AON1100™ device comes with a complete AI tool suite that includes dataset augmentation, training, and inference optimization to simulate device-level behavior.
Through the fusion of the RISC-V processor with AON chips, we're delivering enhanced control over system operations and an unprecedented level of adaptability. To help you better understand, here's a deeper dive into the key advantages of this innovative integration:
AON10xx IP Feature Matrix
At the edge super-low power, high accuracy wake-word, voice command, acoustic event detection, speaker id and sensor support
The AON10xx IP is a super low-power and high accuracy AI processing engine for Wake Word, Voice Commands, Acoustic Event Detection, Speaker ID and Sensors.
The AON10xx IP is part of the AONVoice™ processor family, AON's application-specific edge AI processors for deep neural network inferencing at the edge. Unlike general purpose processors, DSPs and dedicated processors that rely on third party AI algorithms, AON's processors optimize accuracy at super-low power by embedding proprietary, use-case specific neural network architecture and integrating tuned inference algorithms. AON processors also support training with a unique data augmentation tool.
The AON10xx compact AI processing engine delivers the highest hit rate accuracy per microwatt available in the industry under real-world, noisy conditions.
AON10xx Hardware IP can be integrated in a standalone chip or in a sensor, such as a microphone, allowing the Application Processor to stay in idle state during the always-on listening state.
AONDevices also offers the SW algorithm AON10xx for porting to a third-party DSP for less power sensitive applications.
| Features | AON1000m | AON1000 | AON1010 | AON1020 |
| --- | --- | --- | --- | --- |
| Output classifications | 2 | 20+ (<60) | 20+ (<60) | 40+* (<120) |
| Wake Words | ✓ | ✓ | ✓ | ✓ |
| Voice Commands | X | ✓ | ✓ | ✓ |
| AED | X | ✓ | ✓ | ✓ |
| Speaker ID | X | X | ✓ | ✓ |
| Sensor | X | X | X | ✓** |
| Online or local tool suite AONx360 | ✓ | ✓ | ✓ | ✓ |
Edge AI for voice activation and sound recognition in battery-powered devices
Learn more about AONdevices and other advances in the voice and audio AI field
Sign up here to get the latest news, updates, and special publications delivered to your inbox.

5270 California Avenue, #350 Irvine CA 92617